Different sedation techniques depending on patient's needs:
Oral premedication (OP) with anxiolytic medication eg. diazepam
Oral sedation (OS) with sedative medication diazepam, temazepam, midazolam
Transmucosal:  intranasal/buccal pre-sedation with anxiolytic/sedative medication midazolam
Inhalation sedation (IHS) with mixture of nitrous oxide and oxigen (laughing gas, happy gas, relative anaesthesia, N2O/O2)
Intravenous sedation (IV) with sedative medication: Midazolam, Propofol, Ketamine (?)
Combinations of above: eg. OP + IHS, OP + IHS intranasal sedation, OP + intravenous sedation, IHS + IV (?)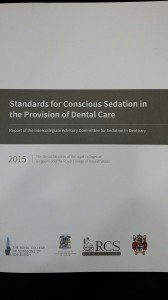 Prevalence of Type of Sedation (Clinical Audit, Cumbria, SAAD Diggest Vol 32, Jan 2016): Intranasal: 0.5%, RA's 63%, IVs 36.5%
Percentage of patients require any form of sedation ? according to literature: 10-20%, including general anaesthesia
 Conscious Dental Sedation Essentials
 Proper referral pro-forma
Dental assessment, radiographs
Medical history checked
Treatment plan
Options for pain and control given
Conscious sedation technique chosen
Valid consent
Pre and postoperative instruction given
Check list done
Sedation procedure
Clinical records includind dose, time, etc.