Referrals and self-referrals:
Special needs patients referred by: GDPs, dental therapists, oral health promoters, GPs, social services, residential homes, learning disability centers
Waiting list matter
The decision about: a) routine dental treatment, b) treatment under IV or RA sedation, c) GA sessions, d) domiciliary visits, e) mobile dental unit use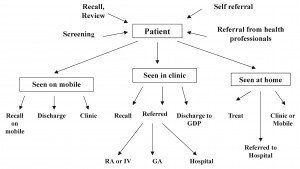 special communication skills, eg. Makaton sign language use
surgery located and first floor, wide doors
ability to get in on wheelchair or larger electric scooter
'sectioned' doors, able to open widely in case of wheelchair bound user
 Additional measures:
Special assistance to stay comfortable
Bariatric dental chair with increased weight limit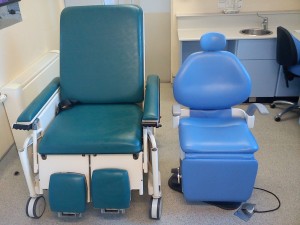 Combined equipment: reclining platform and bariatric chair
Easy-to-access dental chair (Belmont, 'break-knee chair')
wheelchair recliner – up to 50 stones – limitations: take the time to allocate the wheelchair bound patient into it, patient cannot be reclined too much, not great for 'short' dentists as they may need to use additional platforms to reach bariatric chair, also posture problems:  dentist has to bend a lot
advantages of wheelchair platforms: no hoist need, no manual handling, safer than hoist, patient comfort, dignity, movable,
do not recline obese patients too much as airways can be compromised (lots of fatty tissues)
transfer device (hoist) – hoist is perceived to be an indignified tool, patients really dislike it! therefore a wheelchair platform is much more acceptable
cushions, head rests, blankets to support the head, limbs or body during treatment
patient's comfort can be improved by adapted head rest, eg. lubmar support
if patient is wheelchair bound (cerebral palsy, multiple sclerosis) and uses special pads to hold him/her in order to stabilize position – do not attempt to transfer him/her into dental chair
special, customized (custom made) 'full-body' cushions highly useful and practical – problem – cross infection control issue and some of them may not have CE mark
rota cushion to assist the patient with poor mobility: hips problems, spine problems, legs impairment, hemiplegia
leg cushion to support lower part of the body
"break knee" dental chair
"booster seat" to suport young patients
"banana boards" – to slide from one seat to the other
"turn table", swivel mats – to allow a standing person to rotate without moving their feet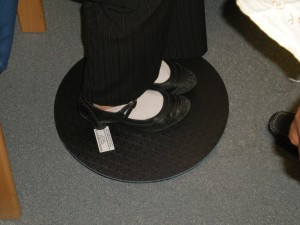 Hydrogel, semi-individual headrests; can be heated or cooled down, eg. patient suffering from neck pain, stiffness, neuralgia.
Bariatric scale to measure weight, better and simple option than asking the patient who may be quite upset and crossed with this question.
Sara Stedy equipment very useful for patients with hemiplegia, eg. after CVA or stroke.